Making an Apple Pie (Short Recipe)
Long, photo illustrated version of this recipe
Making the crust
You do not double a one-crust recipe to make a pie with a top crust, or you'll have too much crust. But you can double a one-crust recipe for two pie shells.
1 crust pie (pie shell)
1.5 cups flour
.5 teaspoon salt
.5 cups shortening (Crisco)
3 tablespoons ice coldwater
2 crust pie
2.25 cups flour
1 teaspoon salt
.75 cups shortening (Crisco)
5 tablespoons ice cold water
Mix flour and salt. Cut in shortening until mealy. Add ice water. Mix until it barely holds together. (Chill in refrigerator for one hour, if you have time.) Roll between two sheets of wax paper.
Make the filling
4 cups sliced apples
1 cup brown sugar
3 tablespoons lemon juice
1 teaspoon vanilla
.5 teaspoon cinnamon
1.5 tablespoons instant tapioca
pinch salt
4 tablespoons butter or margarine

Mix together all the filling ingredients in a large bowl. Put into unbaked pie shell.
Make a lattice topping
Roll out pie crust. Cut into strips. Lay over filling in a lattice pattern. Don't worry too much about the perfection of the lattice--it's going to look good no matter what you do.
Make a streusel topping
1 cup flour
.25 pounds butter (1 stick)
.5 cups sugar
Cut butter into cubes. Combine everything in a food processor, processing until crumbly.
Bake the pie
Bake the pie at 350F for about one hour, until bubbly and browned just right. Rotate once after 30 minutes, to ensure even cooking.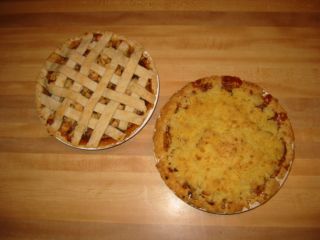 This web page is copyright © 2003 by Alain Roy. Please do not copy this page without his permission.